I admit to having slacked on updating this blog over the last several months, seeing how you only have to go back 2 posts to get to last year's "Happy New Year!" update!  I promise to be better this year!
A Busy Year
Lack of updates did not mean lack of activities.  If you LIKE and follow my Facebook page, you'll see that I'm much more inclined to post updates about my activities there.  To be honest, it's easier to pop a quick update on there than to make a whole post here…but I do promise to try harder this year!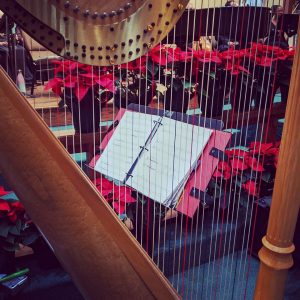 Over the course of 2019, I did a lot of performing.  From playing with the Augusta Symphony and other orchestras throughout the year, to performing with several professional choirs and other chamber ensembles.  During the first couple weeks of December, I had wall-to-wall rehearsals and performances with several choirs and orchestras throughout Georgia and Tennessee, in celebration of the Christmas season.
Back in June, I once again taught at the Adult Harp Retreat in the beautiful north Georgia mountains and had a wonderful time working with all of the students there.  While personal reasons prevented me from returning to the Summer Harp Academy in North Carolina back in July, I was able to contribute and help them out as I was able with my typesetting and other remote skills. I'm looking forward to being back at the SHA this summer.
Private teaching really blossomed after our relocation from Canton to north Cumming in the spring of 2019. I think our Canton location was not ideal for many people (myself included!), but our new home in the north Cumming/Dawsonville area is much more travel-friendly and convenient for students from all directions.  And if you've been on my website at all in the last few months, you may notice that I have started offering online lessons to experienced students who are unable to travel here in person. You can read more about that on this page.
Christmas Videos
Throughout most of the month of December, I uploaded a new, casual video of myself playing a Christmas song each day as I counted the days down until Christmas.  All videos were posted to my Facebook page, but I did create a page on my website to house all of the videos once they were complete.  You can find those videos here. As they are casual videos, they are low-production cell phone videos that mainly show my hands.
Most videos were of the harp, though a few were of piano, with a couple interesting bonus videos thrown in! Due to my busy schedule of gigs in the mid-month, I did miss a day. To make up for it, I created a brand new arrangement to record for one of the days. The song I chose was the beautiful "Mary Did You Know?" which you can see here:
Looking Ahead
I have a few things lined up for 2020, though I don't want to go into too many details until things are further along. One thing I'm hoping to begin in the next week or two is to start uploading regular piano videos. While not harp-related, I will likely post a link to them here once I get them started.
One of the big things I'm working on for this year is that I hope to perform another solo recital (or 2), as I did back in 2018. Date(s) and location(s) to be determined, but I will post more details as I have them. It's entirely possible that SOMETHING might happen in the coming months that might eclipse the recital(s) and move me to decide not to do them, so I won't give more information about them until I know for certain they are happening. What I will say though is that repertoire has been selected and I'm excited to be working on almost all entirely new (to me) pieces that I've always wanted to perform, while sticking to a theme of each piece being by a composer from a different country. This is a recital theme I've wanted to do for many years, so I'm very excited to finally do it!